We had recommended Munjal Showa on 30Jul2014 at Rs. 94 in our first report Munjal Showa –Riding the Hero & Honda Wave We re-iterated our stance at Rs. 190 in an update report on 11Dec2015 on Munjal Showa -Diversifying its Revenue Base

Munjal Showa manufactures shock absorbers and struts for 2 & 4-wheelers respectively. Munjal Showa has a technical and financial collaboration with Showa Corporation, Japan who also owns 26% in Munjal Showa. Munjal Showa is the market leader in these products and supplies to marque clients like Hero Motocorp and Honda Motorcycle in 2 wheelers segment and to Maruti and Honda Motors in the 4 wheelers segment.

We think Munjal Showa provides a good opportunity for investors at a current market price of Rs. 215 due to the following reasons:

1. Ancillary Company to World Largest Two Wheeler Industry: In FY17, India became the world's largest 2 wheeler market by registering domestic sales of 1.7 crores units of 2-wheelers. This translates into an average sale of over 46500 two wheelers per day. Considering the growth of infrastructure in the smaller town and rural areas, availability of easy finance, youth dominated demography, rising women users and normal monsoon, the industry is expected to grow at more than 7% per annum for a foreseeable future.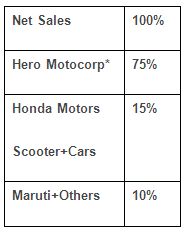 We expect Munjal Showa, being an ancillary supplier to the two wheeler industry, to grow well along with its OEM producers translating into better times for the company.

2. High Market Share with Industry leaders -Hero Motocorp and Maruti Suzuki: Munjal Showa derives its majority revenue from Hero Motocorp, which is the market leader in the two wheeler industry having 37% market share in India. For the last 3 years, Hero Motocorp sales stagnated with near zero growth in volumes leading to a similar outcome for Munjal Showa as well. Between FY15 to FY17, Hero Motocorp clocked yearly sale of around 66 lakh units, translating to around 5.5 lakh units per month. However, since March2017, Hero Motocorp has been able to maintain the average sale of more than 6 lakhs units per month with nearly 30.8 lakh units sold in 5 months between Mar17 to Jul17 as against 28.8 lakhs units in same period of 5 months last year, indicating strong growth.

Munjal Showa also generates 12% of its revenue from the 4 wheeler segment where it supplies struts to Maruti Suzuki India Ltd who has strong leadership in the 4 wheeler segment. Maruti is also clocking continuous growth quarter after quarter along with maintenance of its market leadership. The revenue for Munjal from the struts has increased from Rs 109 crores in FY14 to Rs. 189 crores in FY17.

The strong growth of Hero Motocorp and Maruti should aid Munjal Showa to achieve strong growth in sales and profits.

3. Q1FY18 result reflecting modest improvement: Munjal Showa has reported highest revenue of last 8 quarters in Q1FY18 of Rs. 395 crores. It has also reported a profit after tax of Rs. 17.6 crores in Q1FY18 against Rs. 14.98 crores in Q1FY17, indicating growth of 17% YoY.

4. Strong Balance Sheet: Munjal Showa enjoys a debt free status having cash and equivalent worth Rs. 164 crores as on Mar2017. In last 3 years though revenue remained stable, Munjal Showa was able to increase its cash and equivalents from Rs. 30 crores in FY14 to Rs. 164 crores in FY17 with the help of strong cash generation.

Valuation: At current market price of Rs. 215, Munjal Showa is trading at a market cap of Rs. 860 crores having a cash and equivalents of Rs. 164 crores. Considering its trailing 12 months profits of Rs. 56.5 crores, the company is trading at a price to earnings multiple of 15 times. With Munjal Showa's OEM customers likely to grow well over next few years, we think Munjal Showa provides a decent opportunity for investors.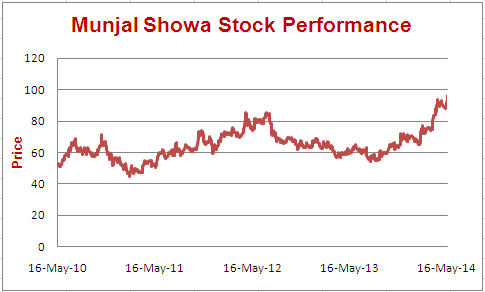 Share On