Over the last one year, we at ProsperoTree.com have published multiple reports highlighting the opportunities to invest in specific real estate stocks in India. Here we bring you with some key global trends and domestic pointers that may help investors think well about the Indian Real Estate sector for the long term.
1. Observation from US Housing Market:

The United States has a total population of around 32 crores and already has 13.6 crore housing units in the country. In-spite of such high penetration of housing, the US sells around 5-6 lakh homes per year.
---
At its peak in 2005, the United States sold around 13 lakh houses in a year.
---
2. Observation from China Housing Market: Within China, there are multiple data sets along with multiple terminologies on housing stock and production. Though difficult to have precise numbers, various data sets give a very good guidance on the trends that played out in Chinese housing market.
Number of Square Feet Sold: For instance, the sales of commodity residential housing (read normal houses) reached 16.9 billion square feet (1690 crores sqft) for year ended 2016.
---
This means China sold approximately 1.12 crores houses / apartments in 2016, assuming average size of 1500 square feet per house.



---
The sales of residential housing at 16.9 billion square feet in 2016 was more than double that of 2007 which was pegged at around 8 billion sq feet of sales of residential space.
Per-capita Space Trend: From 1978 to 2007, residential space per capita more than quadrupled in urban areas from 6.7 square meters (72 sqft) to around 31 square meters (333 sqft) in 2010. By 2016, this number should have increased substantially from there as well. China's per capita floor area now exceeds the averages in Japan and Europe.
Apart from increasing income levels, key reason for booming housing sector in China from 1990s till date can be attributed to:
Change of government policy from providing accommodation to reimbursing them with rent equivalent amount.
Allowing private companies to build and sell real estate
Dramatic improvement in housing standards
3. Observation from India Housing Market: As per the 2015 report of a technical group on housing, India has a huge shortage of 1.9 crores homes. To achieve housing for all, close to 23.4 lakh homes need to be constructed every year from 2015 to 2022.
India does not have any central database that helps us understand the rate of construction of new homes per year. However, the top 8 cities data compiled by various agencies clearly suggests that the rate of construction of new homes is far lower that the required numbers to fulfil housing for all achievement.
---
The top 8 cities of India only sold anywhere between 2.5-3 lakh apartments for the last 3 years



---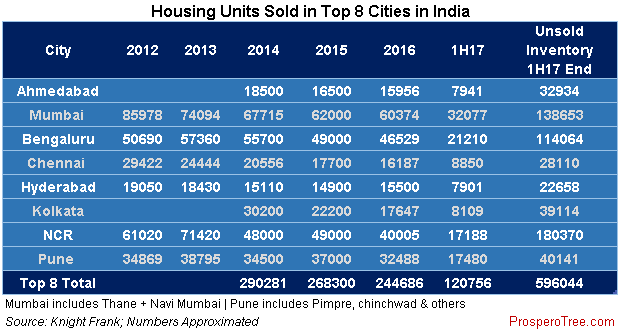 4. What can the future of Real Estate be in India?
There is no doubt that there is a huge demand for real estate in India among all strata of society. The demand comes from huge need in the form of first home, nuclearization of families, improvement of living conditions and aspiring to have more space among others. However, there are valid doubts about these houses being un-affordable to the masses.
With this pretext, we are summarizing certain thoughts that will help the investors to have a right framework to think about real estate companies in India.
a) Per Capita Income Growth and Wealth Effect: India may see its per capita income double in the next 7-8 years and it would be very difficult for that to happen without income levels increasing for the masses. Additionally, as India GDP size increases, the number of multi-millionaires can see a dramatic rise leading to significantly higher demand for real estate for personal consumption as well as an investment.
b) Volumes in Indian Real Estate can expand meaningfully: Comparing with other populated and economically successful countries, volume of real estate sales in India are quite small and provide huge opportunities for real estate players to grow. For instance the largest real estate company in China has its construction going on more than 500 locations across 200+ cities and has a market cap of Rs. 4 lakh crores. Comparisons to China or US are not directly relevant in the Indian context; however, we should think of current volumes with respect of not so great period for real estate in India.
c) Changing Business Environment: It would be very difficult to time the turning point for the real estate industry precisely. However, the situation is looking much better now as compared to the last 5 years period. This is mainly because
Substantially reduced interest rates have increased affordability
Consolidation and corporatisation of sector
Faster turnaround time in getting regulatory approval
Decrease in land price
Better tax incentives for buyers as well as builders
Increased transparency and trust in system due to RERA
---
Thinking holistically on all above parameters coupled with attractive valuations of some reputed real estate companies; it makes a strong case for long term investors having staying power.



---

Share On
1875