The year 2017 has been a blockbuster year for SME IPOs with many companies getting huge oversubscription of more than 100 times. The interest in SME IPOs was not only seen from retail investors but also from large investors belonging to HNI as well as institutional category.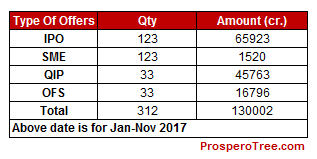 SME IPOs matching with main board IPOs in quantity terms
So how are SME IPOs different from IPOs that we generally talk about!!!
About SME IPO: In order to provide a platform to raise capital and listing on stock exchange for small & medium enterprises, BSE & NSE has started a separate exchange named as "BSE SME" and "NSE EMERGE". The success of this can be seen from 123 SME companies coming out with SME IPO using these platforms and raising nearly Rs. 1520 crores.



Key Features of SME:
SME Exchanges provides an opportunity to SME to raise the capital for their business needs.
Listed companies generally enjoy higher branding than unlisted companies.
Chance to migrate from SME to Main Board on the satisfaction of certain conditions. Forty such companies from BSE SME exchange have already migrated to the main board.
Key differences between SME and main board IPO

It is generally believed that SME IPO's are more riskier than Main Board IPO's as it is not approved by SEBI and are illiquid post listing. However, it is not completely true.

Share On
1967