The year 2017 saw fundraising in various forms. While new companies raised capital through IPO's and SME IPO's, listed companies too grabbed an opportunity of the positive sentiments of investors in 2017 through QIPs.

QIP's acronym for Qualified Institutional Placements are used by listed companies as a tool to raise capital by issuing new equity shares to specific set of investors. These equity shares are issued at a predetermined fixed price by the company and can be allocated only to institutions known as Qualified Institutional Buyers (QIB's). Only institutions sufficing certain criteria set by SEBI are qualified as QIB's.

If we see the sector wise fund raising done in 2017, it will look something like this where a total of nearly Rs. 61000 crores were raised by multiple companies through QIP.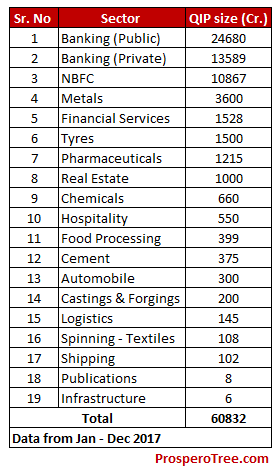 Some of the key points to be noted about the QIPs of 2017 are:
41 companies raised Rs 60832 crores of capital through QIP's as reported by BSE website
Banking sector (public & private) raised the highest funds worth Rs 38269 crores representing 62% of the total capital raised by companies. The major motive behind banking companies raising capital was due to:

Restructuring of Non-Performing Assets (NPA's)
Infusion of capital for growth opportunities in the financial services sector
Participate in international lending

If we include the NBFCs and Financial Services space with the banking sector, a total of Rs 50664 crores was raised just by the sector. This represents around 83% of the total capital raised through QIP in 2017.
While some QIP issue size in absolute terms may look small, some companies raised huge capital and diluted substantially to the tune of 17% of their total market capitalization.
The below table gives details of all the QIPs company wise



Share On
2020