The world of stock market investing has seen some exceptional investors like Warren Buffett, Charlie Munger, Benjamin Graham, Peter Lynch, Philip Fisher to name a few, who have shared not only their investment philosophies but also worldly wisdom through their writings. Prospero Tree endeavors to share their philosophy in the Indian context which could help you in shaping up your own investment mantra. As the first, we will be writing a mini-series on Peter Lynch "One Up on Wall Street".
Peter Lynch was a celebrated portfolio manager of Fidelity Magellan Fund, which was the best performing fund in the world under his leadership for 13 long years - from May, 1977 to May, 1990.
Peter Lynch has co-authored a book alongwith John Rothchild - One Up on Wall Street. Through this book, he articulates his thesis that amateur individual investors can earn superior returns by investing directly in easy-to-understand companies that they come across in their daily lives and by doing their own research.
Peter Lynch on Stalking a Multibagger
"The best places to begin looking for the tenbaggers are home, backyard, shopping mall or one's workplace. An average person comes across a likely prospect two or three times a year - sometimes more. This approach could have helped even an amateur investor identify stocks like Dunkin Donuts& McDonald's in the US market.
There are two sides to this method - One is the professional's understanding of the workings of the industry; the other is a consumer's awareness of a likable product. The professional's edge is especially helpful in knowing when and when not to buy shares in companies that have been around awhile; theconsumer's edge is helpful in picking out the winners from the newer and fast-growing companies, especially in the retail space. Whichever edge applies, the exciting part is that you can develop your own stock detection system outside the normal channels of Wall Street."
ProsperoTree.com View - The Indian Stock Market's Context
As a consumer of products and services in India, you could have stumbled upon 100+ companies which are listed on the Dalal Street. Just as Peter Lynch highlighted above, as a layman, you would have easily come across these consumer brands in your home, shopping malls or modern retail outlets -Colgate, Pidilite, Asian Paints, CCL Products, Bata, Lloyd Electric. A representative list of 66 companies is enumerated below.
It will surprise you that so many companies turned out to be multibaggers in your vicinity; you just had to keep your eyes and inquisitive mind open - Page Industries (of the Jockey fame) has become a ~50x bagger in 8 years, Hawkins Cookers has become a ~36x bagger in 8 years while Symphony is a ~866x bagger in 8 years!
With 5,000+ companies listed on the stock exchange, it is indeed a daunting task to filter out companies which one can start researching on. Using this approach, an amateur investor, could have reduced the universe of stocks to begin with and then narrowed down the list by applying appropriate sub-filters. The other incidental yet important benefit of this method is that one would very likely end up researching on stocks which one has encountered as a consumer or a professional - the business models of these companies become relatively simpler to understand.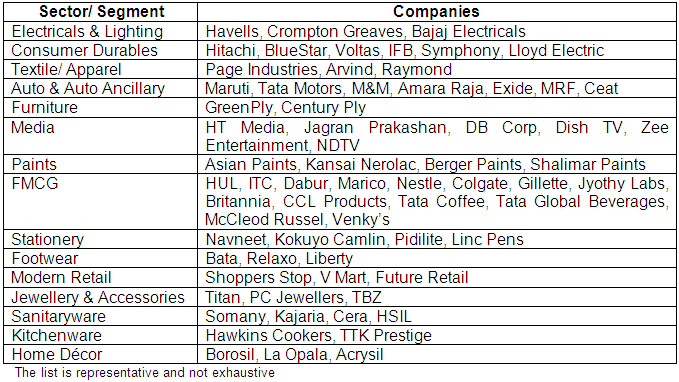 Undoubtedly, amateur investors are blessed with common sense and inquisitive minds but are unable to tap these multibagger ideas for want of time - you may be too busy with your regular jobs and family leaving very little time for researching stocks. ProsperoTree.com will help you with Stock Investing Ideas here - Investing and Stock Trading Ideas here - Tipwala.
Disclaimer - The stocks listed in the above table do not in any way imply that we recommend these stocks. But you can read about the stocks from this list that are covered by Prospero Tree by clicking below:
Colgate Palmolive (India) - Widening Investors' Smiles
Pidilite - FEVICOLed to Growth
CCL Products - Brewing for Good Times
Linc Pens
Lloyd Electric - Exit with 82% Returns
How Bata Regained its FOOTing through A Solid Makeover?
Acrysil - Niche Kitchen Sink Player

Share On
1782