Several retail investors view IPOs as a gateway to earning a quick buck in the market. An IPO performance report released by Institutional Investor Advisory Services (IiAS) could serve as a harsh reality check for investors chasing easy money from IPOs. The study reveals that only 42% (164 out of 394) of total IPOs launched between 1st April, 2003 & 31st July, 2014 are currently trading above their offer price. Even more startling is that investors would have made higher post tax returns by investing in fixed deposits rather than investing in ~20% of companies out of these 164 companies which are trading above their offer price. The below exhibit showcases the returns from some recent IPOs.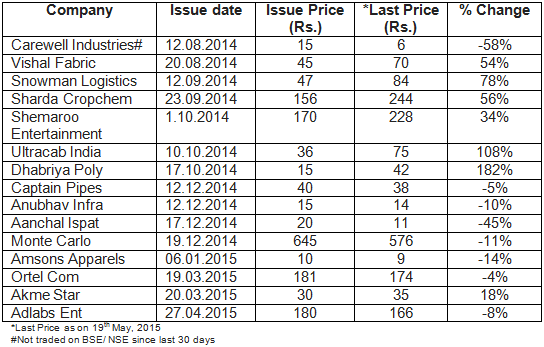 Prospero Tree View
We believe that investing in IPOs is no different from investing in stocks in secondary market and it entails equivalent due diligence and research as that in stock investing. If properly selected, a trader (not investor) will end up making decent listing gains in many IPOs. However, most people don't know the difference between the two.

From an investment standpoint, Warren Buffet sums this up perfectly well - "It's almost a mathematical impossibility to imagine that, out of the thousands of things for sale on a given day, the most attractively priced is the one being sold by a knowledgeable seller (company insiders) to a less-knowledgeable buyer (investors)"
But we would like to add that "mathematical impossibility" does not literally mean that there could not be any possibility. You can read our recent recommendations on IPOs below:
a. Sharda Cropchem - Case for Higher Valuation than UPL
b. Sharda Crop IPO - 50% on Listing Day; What Now?
c. Repco - Financing Homes
d. Repco - Continue to Hold with 145% Already
e. Snowman IPO - Frozen Logistics
f. Snowman - Returns of 68% on the Listing Day

Share On
1798