It's the start of a new financial year and most of us would be relaxed about planning our taxes, investments and insurance for FY16. However, its prudent to start exploring options right away and not wait for the next Feb-March period to start planning your personal finances. Prospero Tree re-visits the erstwhile devil, ULIPs, given the change in rules governing them and helps you evaluate its attractiveness. Before we do that, it would be helpful to get yourself acquainted with various insurance products available in the market: Insurance " Innovation & Complexities.
Unit Linked Insurance Plans (ULIPs) as a product has witnessed many ups and downs. From being the hottest selling insurance product during 2006-2010, it became a bad word in the world of investments for its draconian charges. Recently, the insurance regulator (IRDA) stepped in and put a cap on all kinds of charges. Also, insurance companies suffered from low inflows due to the bad name earned by ULIPs. This gave birth to the newer version of ULIPs, which could well be the start of dramatic perception U-turns for the category! ULIPs had earned such a bad name that the wealth managers still don't make an effort to sell it! Precisely the reason why we decided to take a relook (one should be more interested in knowing about what the agents are not selling!).
ULIPs Version 2.0 - Low on Charges
ULIPs are Unit Linked Insurance Plans where the premium you pay is invested in debt or equity funds and higher of the insured amount or fund value (value that your investments under the plan have achieved) is available to you as death benefit. We evaluated some of the ULIPs and were pleasantly surprised. Though most of the charges still remain, they have decreased tremendously; investments in some of the ULIPs could prove to be cheaper than the usually recommended combination of term insurance and mutual fund. Of course, you have to maintain your policy for at least 5 years (instead of 10-15 years earlier) to take advantage of lower charges in future years.
Below is the comparison of old and new ULIPs: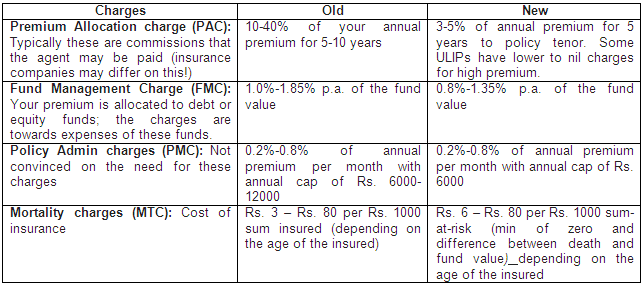 Prospero Tree View
We advise you to pay maximum attention to PAC and MTC:
PAC has declined significantly and is in fact nil for higher premiums (option available with only few insurers). With this, the agent commissions have also declined and they may never show this product to you.
MTC: Its insurance cost is Rs. 6 - Rs. 80 per Rs.1000 sum-at-risk. Many insurers have defined sum-at-risk as Death benefit (insured amount) minus fund value. So, in case fund value exceeds death benefit (It is likely to happen in 7 years at about 10% estimated returns at insured amount upto 10 times the annual premium), no charges are deducted towards MTC. It means insurance is free!!
Though most ULIPs still have high charges, we have come across a few ULIPs that are worth taking a look at. As an illustration, if one is ready to pay a premium of Rs. 200,000 annually, a ULIP gives you insurance plus investment plan at an all inclusive cost of 1.5% (Investing through a combination of mutual fund and term insurance will cost you approximately 2.5%)
We had written on ULIPs - Low on Insurance, High on Charges but are now changing our stance only with respect to some ULIPs after the new rules. Yes, we are sticking our neck out and advising people to relook at some ULIPs to combine insurance and investment! We think that the Indian economy is about to pick up and interest rates could decline by about 200bps or 2% in the next 2-3 years. This is an ideal opportunity to take an exposure to fixed income instruments or equity funds and benefit from potential capital appreciation. And the interest would be tax free if held for more than one year!

Share On
1854